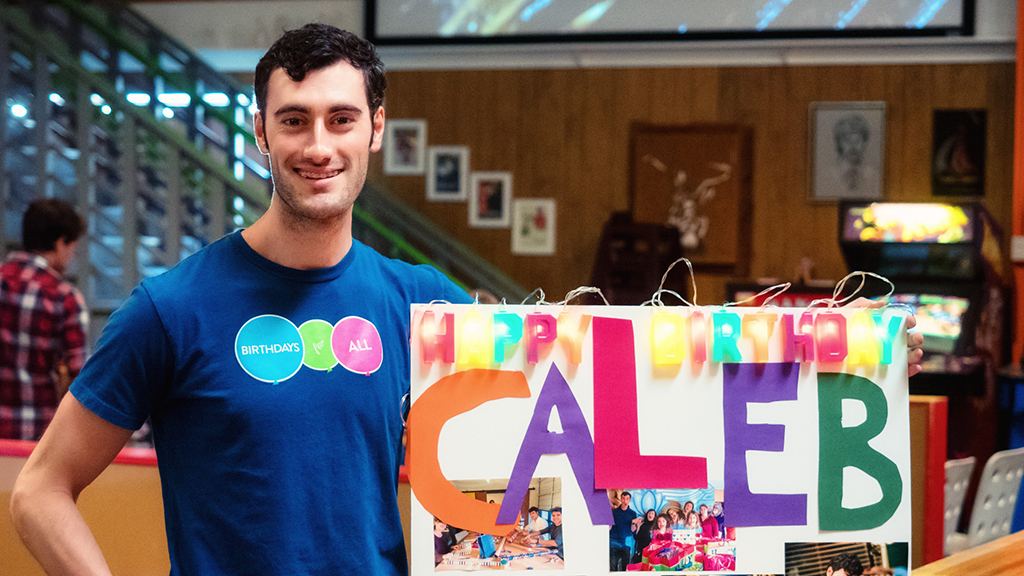 One of the best things that I've experienced with Birthdays For All is the collaboration with people in the local community to accomplish our mission. It can be a local business looking to give back, or a rockstar individual looking to do something special to benefit foster children on their birthdays. Of all the people who have helped us over these past two years (and there have been many), I can't think of anyone who has supported us more from day one than Caleb Copper.
If you've been following Birthdays For All on any social media platform, you probably already know Caleb, or at least recognize him. He's the tall, handsome dude, who looks like a cross between a young Clark Kent and Woody from Toy Story. He also does a good Where's Waldo impression. In fact, you can play Where's Caleb on this very website.
You would have seen him at a couple of our "very firsts". He was there at our very first Wrapping Party when we didn't know if anybody would show up. He volunteered at our very first Toy Drive event, where he and his buddy Sean, thought they had signed up for an hour, but it turned into a hectic, but amazingly fun 4 hours of face painting for hundreds of kids.
And now, Caleb has done another first, by hosting his own Wrapping Party at his birthday party at The Alley Charleston. Such an obvious idea in hindsight, but Caleb was the first to do it!
On top of all that, Caleb was the first to use his own birthday to fundraise for Birthdays For All on Blackbaud's EverydayHero platform. He originally set a goal of $500, but ambitiously increased it to $1000 just a few weeks before his birthday.
We owe Caleb a huge thanks for all that he has done for Birthdays For All during our short history. We wish him the happiest of birthdays, as we wish the same for all the children living in foster care right now.
People like Caleb are making a difference to their lives. If you'd like to help him SMASH his fundraising goal, head over to his personal fundraising page at Everyday Hero and wish him and the foster kids a happy birthday.