We hope that you had a special time this past Thanksgiving to celebrate all the things that you can be thankful for. Steffi and I spent the day with family, which now consists of lots of young children who got to play and be crazy together. We ate a tremendous amount of food, and still got to take enough leftovers to feed us for the entire weekend. We're very fortunate to have so much to be thankful for.
November 28th 2017 is Giving Tuesday, the global giving movement that follows Black Friday and Cyber Monday. Giving Tuesday gives us all the opportunity to give back to our communities. This year is the 3rd Giving Tuesday event that Birthdays For All are participating in.
It's hard to believe that it's been less than 3 years since we started Birthdays For All. The idea was inspired by a series of articles from the Post and Courier about the state of foster care in South Carolina. The lack of foster parents led to more children being kept in group homes, and do not get enough individual attention to celebrate a birthday. We wanted to make sure every child got to celebrate their birthday.
At the time, the federal statistics showed that in 25% of foster children in South Carolina under the age of 13 were living in group homes, compared to the national average of 4%. Over the past 3 years, the situation has gotten worse. According to a recent article in the Post and Courier, the number of foster children in South Carolina has grown substantially in the past few years.
We know that the problem is incredibly complicated and won't be solved overnight. But the simple joy of feeling special on your birthday is something we know we can and have achieved for hundreds of foster children. It was an honor to be recognized by an article about Birthdays For All in the Post and Courier earlier this year for what we've been doing.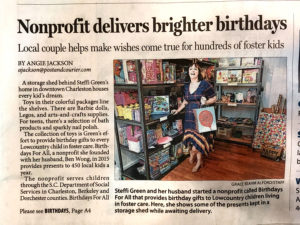 We are so thankful that we've had the support of so many in the local Charleston community to help us with our cause. People at organizations such as Movement Mortgage, Levelwing, Asten Johnson, ObviousLee Marketing and Sol Kitchen, to name a few, have done amazing things to provide birthday presents.
On Giving Tuesday, we hope that you consider joining our own little movement to celebrate every foster child's birthday in South Carolina. You can define your Giving Tuesday story by making a gift today.